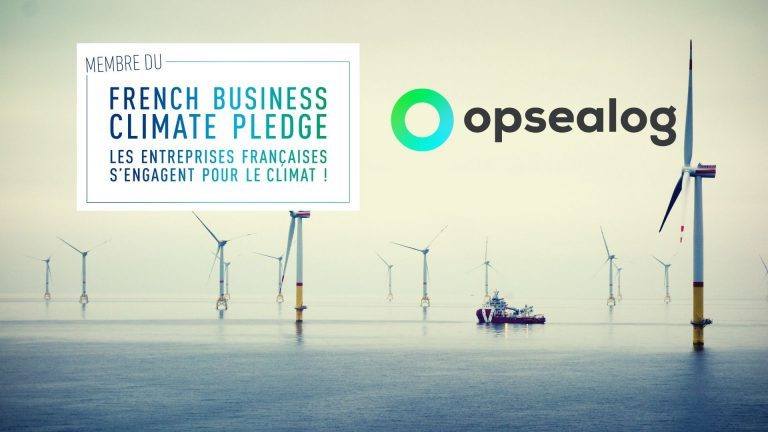 Opsealog joins the French Business Climate Pledge for promoting maritime climate action based on data
Maritime climate action: Opsealog joins the French Business Climate Pledge announcing its goals of using marine data analytics to reduce greenhouse gas emissions at sea.
Opsealog is thrilled to announce its participation in the French Business Climate Pledge. The Pledge is a voluntary commitment of companies established in France that take concrete actions to transition to a low-carbon economy and develop solutions, technologies, low-carbon products, and services.
Opsealog commits in promoting a better and more sustainable use of resources. Participating in the FBCP will enable the company to share its goals and increase its visibility in environmental actions.                     
A pioneer in Performance Management for Environmental activities
Opsealog specializes in maritime data analytics, focusing on marine logistics operations for the maritime, offshore oil & gas, and renewables sectors. Utilizing cutting-edge digital technology that generates real-time, intelligent data, Opsealog unlocks new efficiencies and enables smarter decisions. Its digital technology is ideally positioned to support the energy transition that is gaining pace in both the maritime sector – delivering efficiency to support the introduction of low-carbon fuels.
The meeting point of expertise and data
Opsealog's "Efficiency as a Service" concept successfully combines data integration, performance management, and expert analysis. It enables the energy and maritime sector to reduce environmental impacts across their marine activities. Therefore, Opsealog offers hands-on support and a consultative, collaborative approach to improving its operational performance through better insights and turnkey performance management, vessel tracking, and monitoring tools.
Optimization will ensure sustainable change
The atmospheric impacts caused by Offshore Supply Vessels (OSVs) come from the combustion processes of Diesel Engines. However, due to the complexity of their operations, their environmental impact becomes difficult to predict. Opsealog's Marinsights service helps clients understand the environmental effects of each activity, offering levers of improvement for minimizing fuel consumption and, therefore, reducing GHG emissions and monitoring emissions zones (ECA zones) through tailored vessel tracking geofencing solutions.
Our results
When the defining challenge facing the energy and maritime sectors is decarbonization, Opsealog's marine data analytics are helping clients significantly improve their environmental performance and reduce their carbon footprint. To date, Opsealog has helped reduce CO2 emissions of monitored vessels by 90,000 TEQ and supports compliance with MARPOL's Waste Management and Fresh Water Production regulations.
Our goals
Reduce the GHG emissions of our monitored fleet at least by 10%
Favorise sustainable actions regarding vessel design choices, fuel types, and optimization projects
Assist industry players in reporting environmental information to both environmental authorities and other stakeholders accurately
To offer a 100% secure and reliable means of reporting environmental data, democratize and facilitate data access by multiple stakeholders, enabling the industry to track, record, and learn from data history.
Help the shipping and energy industries to use digitalization as a booster for sustainable actions.
Marinsights solution provides the right data capabilities for maritime climate action
Marinsights Cloud platform collects and integrates data from multiple sources (fuel monitoring systems, onboard reporting software, weather, and vessel tracking). Then, a team of industry experts analyzes the data and provides recommendations. Opsealog's account managers exchange with clients through periodic efficiency meetings, promoting innovative ways to improve performance. In addition, they can measure the improvement of the vessels' operational behavior using algorithms and translate information into key performance indicators available in a web application and periodic reports.
Click here to know more about the French Business Climate Pledge.